<!********** Heading **********>

<!This will put javascript buttons that change color when mouse is over them> <!The Code AND param filenames below MUST be as listed, with upper AND lowercase letters...dont know why but it works.>
<!***** After every /table I had to copy this here for NS to work *****>
As you probably saw on the home page, on Sept 27, 2001 our Dad (Greig) passed away quite unexpectedly of a heart attack. We have left the rest of this page intact, since Dad expressed in his own words so well his beginnings as a knifemaker. Below is the last picture we have of Dad and Mom in their garden.
If you have any questions or comments about his knives, please don't hesitate to send an email and I'll try my best to answer. Thanks again for taking the time to check out his work...his son & webmaster...JR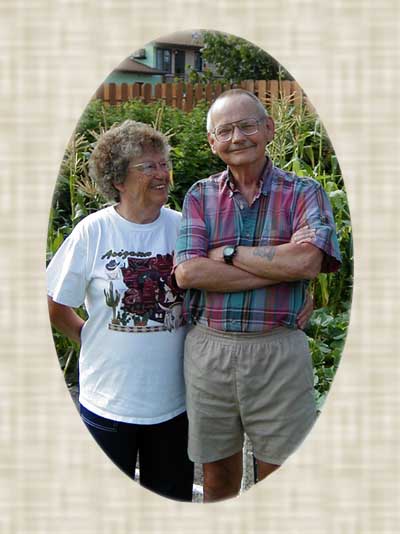 Hi there...thanks for visiting my site!&nbsp &nbsp My name is Greig Ryan and I reside in Hazen, ND.
I retired from the aerospace industry in 1989 and have been making knives since the late 70's for my own satisfaction, amusement, and at times profit.
Ryan Knives is no longer an actual business...it's strictly a hobby. I make knives when I "get the urge" to do so, but I have neither the time nor inclination to become any more involved than I currently am. &nbsp After all, I am retired right?!
In an attempt to somewhat support my habit (or hobby), I occasionally offer selected knives at auction via eBay. That in fact is the main reason behind this site. I wanted to show prospective buyers a sample of my work to reassure them that they won't be getting ripped off! Current auctions can be viewed from the eBay Auctions button at the top of any of my pages.
Although many of my knives have been purchased as collectibles, I pride myself in making knives that are fully functional and not just for display. Many of my knives are carried into the field every fall & winter during hunting seasons and have stood up very well under less than ideal conditions!
My current inventory can be seen by clicking on the Knives button also at the top of any of my pages.
As far as how I go about making my knives, I start with a chunk of barstock and fabricate my blades by the "stock removal" method (ie I remove everything that doesn't look like a knife!) &nbsp I use various steels in my blades but I normally grind my blade blanks in "batches" to take advantage of more favorable heat treating rates.
All of my blades are flat ground; most are mirror polished, & all are heat treated and tempered to RC 60-62. I have all my heat treating done by Pacific Heat Treating in Sunnyvale, CA (in my opinion the best in the business). All narrow tang knives have an extension of mild steel welded to the heat treated stub of the blade blank to guard against handle breakage.
Handles are attached using rivets and are bonded with Brownells Acraglas Gel.
Guards are either attached via an interference fit (ie #122); soldered (ie #126) or rivited and bonded in place (ie #118).
Sheaths are made from oil tanned leather; primarily of 8-10 ounce thickness. All are entirely hand made by me, including "machine look" stitching and hand carved graphics.
The knife fabricating tools I have at my disposal are quite modest. Rather than being a hindrance however, it forces me to do a better job with what I have.
So that's my story in a nutshell. If you have any questions or comments about my knives or this web site, please don't hesitate to send me an email. Thanks again for taking the time to check out my work.