<![if !vml]>

<![endif]>
<![if !vml]>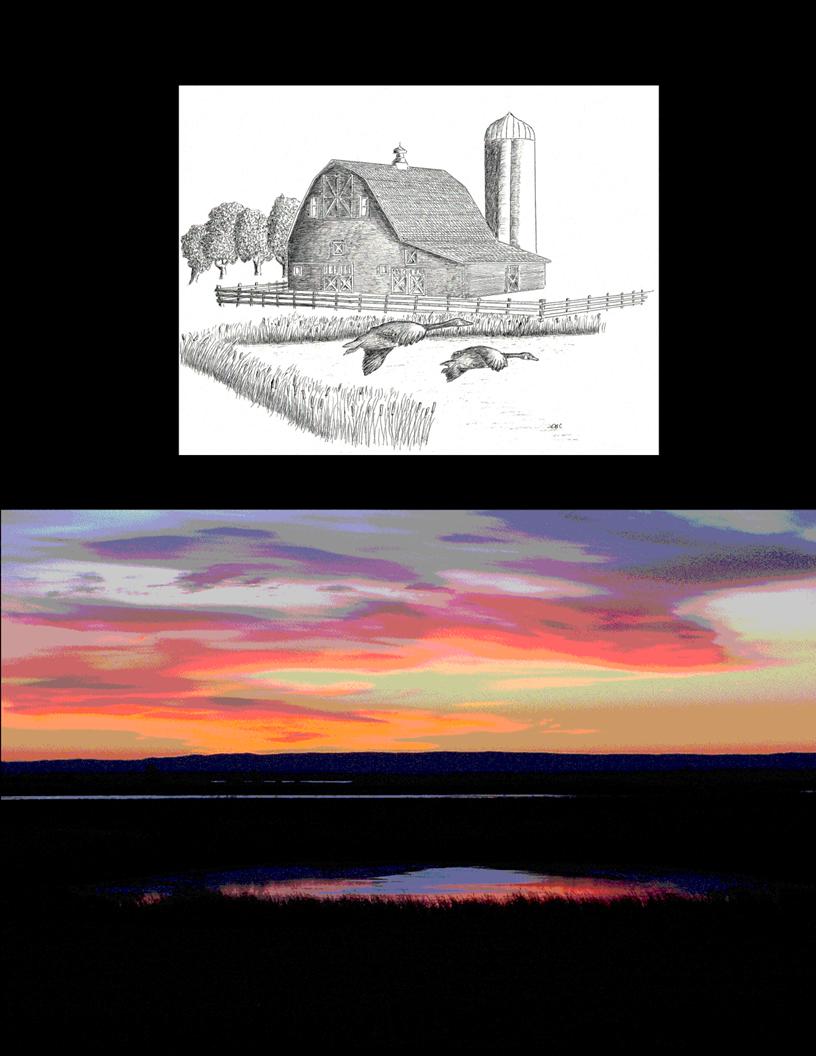 <![endif]>
Country Life, the Upper Midwest
by Donald Bert Cullum
Click here to order from amazon.com
Click here to order from barnsandnoble.com
Country Life, the Upper Midwest contains 145 photographs, 18 ink pen drawings, and 15 poems orchestrated so as to take the reader on a journey into the country, into the rural life and values of which so many of us cherish and many more long for. Turn the pages and let your mind travel to a place where there is a scent of fresh turned soil, fresh cut hay, sounds of mourning doves, geese, ducks, and an un-obscured view of the northern lights, sunrises and sunsets.

Several of the poems contained within Country Life, the Upper Midwest include prayers of thanks and praise to our Lord. The poems are arranged among country life photographs and drawings. The poem arrangement is such that the first pomes are simply reflective of rural living but then the following poetry evolves into a deeper more spiritual thought process. Several of the last poems draw the reader into a right verses wrong inner struggle of a story or topic, then leave the reader pondering the similar challenges that we all face every day of our lives. The writer, believes that the majority of those living in the Upper Midwest readily relate to the Christian values that are reflected in his poetry, therefore he believes Christian value poetry has a rightful place in a book that reflects Upper Midwest culture. In November of 2009, South Dakota Governor Michael Rounds apparently agreed in a letter of appreciation regarding Country Life, the Upper Midwest when he wrote "The descriptions, photographs, art, and poetry certainly reflect rural life".
Dec 2009 Jill Page of frugalplus.com wrote in an online review of Country Life, The Upper Midwest "This is one "coffee table" book that I will hold dear for years to come!" The complete review can be read at http://frugalplus.com/country-life-the-upper-midwest-by-donald-bert-cullum-review-giveaway/

Oct 2009, Most Reverend Paul A. Zipfel Bishop of Bismarck Diocese writes the following after receiving a copy of Country Life the Upper Midwest; "I knew I had something of great worth in my hands. You have captured many memorable scenes through your camera, your skillful pen as well as your poetic heart that should speak to all who take time to drink of the beauty of our unique buildings, God's land and sky that you have managed to display with great artistry. It is clear that you are greatly gifted and that God will continue to make use of the many gifts he has given you."
October 2009, Upper Midwest Regional radio personality Trent Loos praised the book Country Life the Upper Midwest by Donald Bert Cullum on his radio show then read one of the poems from the book on his show heard in several states and two Canadian provinces.

Oct 2009, McLean County Journal Editor Allan Tinker writes, "It is a book with something for everyone, even a little humor in the raccoons on the mailbox sketch, the cattle crossing photo, and babysitting daddy-style, and the word and phrase mental imagery of the ND state fair."
Sept 2009, North Dakota Governor John Hoeven writes "Great Job!" expressing his appreciation of Country Life, The Upper Midwest by Donald Bert Cullum.
<![if !supportLineBreakNewLine]>
<![endif]>

<![if !supportLineBreakNewLine]>
<![endif]>
Poetry Readings
by Donald Bert Cullum
Donald Bert Cullum is available to read poetry or excerpts of writing by Donald Bert Cullum. The poetry and excerpts from writing will be orchestrated so as to take the audience on a journey of place and emotion. The selection can be tailored or created to reflect the interests of the organization or anticipated audience. In most cases, including most charities, if the travel distance is reasonable, no fee will be charged for a poetry reading or for reading excerpts. Write to doncullum@yahoo.com or Donald Bert Cullum, PO Box 292, Turtle Lake, ND 58575 or call 701-48-9125 to check on availability of author and artist Donald Bert Cullum to read at your event.
The Below poem Rain and the reflection titled Upper Midwest Autumn are excerpts from
Country Life, the Upper Midwest, by Donald Bert Cullum
Rain

The cold winter now over, offered so little snow
If we plant now oh Lord, will the seed grow?

Dust billows up when the cultivator discs cut neat rows in the dry soil
The sun yet still weak but within a lunar cycle will be at full boil

Chafe of dirt collected and dried on earlier sweaty creases of skin
The grit of soil in the teeth, eyes red, wait not for the rain, this is my sin

Scan the horizon for the promised clouds, the prayer for rain
Hurry; get the seeds in the ground, no rest through this pain

Hours later still in the field, their eyes meet, climb in the truck, close the door
Water streaks the dirty chin and neck, big gulps of which the body was crying for
Upper Midwest Autumn
    Breath the fresh cool autumn air, feel the sunshine warming your skin, warming your very being.  Listen as a slight breeze rustles the colorful autumn leaves.  A Swanson's hawk stands vigil watch from the top of a fence post.  In the distance you hear the honking of geese. The geese are close enough and flying low enough that you can hear their wings rhythmically cut the air as they pass over. A goose honks to its mate, making a noise that sounds closer than it should be, louder than one might expect if you had not heard it before. You watch the geese get smaller as they fly toward the horizon but then slow and circle the nearby wheat stubble, no doubt looking for something to eat and a safe place to land. A few minutes later you hear the rolling, purring noise that only a sand hill crane can make as they communicate while they too fly overhead.
    It is autumn. Some of the locals take it all for granted, while others know they are in paradise. Hunters and tourists come from all over the United States to experience the sights and sounds of this fall day. A visit into the local Café, or the bowling alley during the thick of the water fowl hunting season is sometimes like walking into a living Cabela's magazine that features hunters from states as far away as Florida, modeling their warm, water proof, camouflage pattern hunting gear. They come here to enjoy the things that we as area residents see and experience every single fall day.
    The wheat is in the bin but the remaining short golden straw stands stiff, with a look of velvet softness when viewed from the distance. Large sunflower heads are all bowed in one direction, dark seeds in the middle, surrounded by wilting relatively short somewhat triangular flower pedals that are in various stages of darkening color. No longer bright yellow but now shades of darker yellows and browns. The sunflower stalks strain against the weight of the heads that are now as large as dinner plates, bowing slightly from the weight while the stalk leaves hang withered and dry, shades of darker green and brown.
    The cattails are thick, standing in tight but irregular spacing, … framing sloughs and pot holes, offering soft colors of browns and tans.  The now dry leaves rustle with every breeze.  The dark brown cattail seeds holding tight to their cylindrical shape provide one of the many contrasting but natural colors of an upper Midwest autumn that is shared with those who take the time to notice.
    The blue sky reflects from the glassy smooth surface of the early morning slough. A muskrat stirs the reflection with its wake as it slowly glides across the surface of the water.  The small beaver like creature spends much of its time building and repairing small huts in the shallow water.
    Colorful mallard ducks, wood ducks, Northern Pintails, Redheads, Canvasbacks, Scaup, Shoveler, Gadwall, Teal, and many other species of ducks are content to continue to call these sloughs and pot holes home but will soon join the migration south. Hundreds if not thousands of pretty but unpopular yellow headed and red winged black birds fly past, as they too have started their migration.
    As the sun sets the rooster pheasants can be heard sounding out one last cackle before they bed down in the cattails and heavy brush for the night. Deer can be seen in the distance as they venture out in the early evening, looking for green grass, fallen fruit and spilled grain.
    The full moon will soon give light to the night while the great horned owl asks Who, who…who, who?   Sit long enough and you will hear the coyotes yipping and then howling for a few minutes before they start to roam. How far does one have to travel to experience these sights and sounds? During any given fall, this can all be heard and seen from the edges of many small towns in the Upper Midwest.
    The fall fishermen are out in force too. They stay closer to home as the weather cools but there are still many choices for dropping a line.  The local kids have named some of the bridges. The bridges with names are of course their favorite summer swimming holes. No doubt at least one of those bridges is framed by overhead power and phone lines that have dozens of lures tangled and hanging from them.
    Driving through the nearby country one is sure to notice the remaining magnificently large barns that dot the landscape. These grand structures are a reminder of the proud heritage of those who founded this land and those who have followed.
   The rural Upper Midwest is for the most part comprised of a conservative lot and is somewhat sheltered from big city problems including serious crime. There is however still some crime that has to be reported. Not long ago, the police report of which was included in a local newspaper described an incident where a lake cabin flower bed had been vandalized. The suspect was a goat, ….said to be a three legged goat. Someone who is not from around here might think that this writing is a reference to some place fictional, some happy made up place like Andy Griffith's Mayberry or Garrison Keillor's Lake Woebegone but no, …… this is real. This is the Rural Upper Midwest.
   Thank you for taking the journey with me.
The above poem Rain and the reflection titled Upper Midwest Autumn are excerpts from
 Country Life, the Upper Midwest, by Donald Bert Cullum
.


If imitation of web page content and ideas is the greatest form of flattery then we should be flattered by recent web pages. 
Make the Move to Turtle Lake !

<![if !supportLineBreakNewLine]>
<![endif]>
·  Contact the following for up-to-date information on available rental housing in Turtle Lake!

 Meadowlark Properties LLC at 701-400-2801
Rittenbach Rentals 701-448-2302
City of Turtle Lake 701-448-2596
The Future Of Area Education Facilities
Some things about the projected future are more obvious than others. For example, take the school enrollment for area schools and the determining factors for the future of this enrollment. Because of the expanded and expanding area coal mining, Underwood's immediate area family farm and ranches are almost non existent. The western edge of the TLM school district will for the most part be the eastern border of the newly expanded Underwood area coal mining. Not unlike many of the other area McLean County towns, the local coal mine, local power plant and local ethanol plant provide some jobs for those that inhabit the Underwood City Limits. What ever Underwood's future does hold, it will likely be without the already lost traditional area family farms and ranches that had at one time been a significant factor in Underwood school enrollment and customers for what is left of Underwood's merchants.
Looking East of Turtle Lake we see another struggling school district. The McClusky Goodrich School District does not have the big area industry that McClean County benefits from. The area agriculture combined with seasonal area hunting and fishing is a great boost for the McClusky and Goodrich economy and does help keep some of their stores and shops open but does not bring enough new families to the area to keep their business and school doors open indefinitely.
Situated between Underwood and McClusky is the Turtle Lake Mercer School District. The Turtle Lake Mercer School District already serves a tremendously large thriving farming and ranching area for several communities including Turtle Lake, Mercer, rural Coleharbor, Butte, rural Ruso, rural Benidict, more than halfway to Velva, about half way to Garrison and also serves within a few miles of Washburn, about halfway to McClusky and already serves within a few short miles of Underwood.
The TLM School District is sustained by many positive factors including strong area agriculture, strong area industry, thriving Main Street and local service industry including the hospital, clinic, dentist office, grocery store, restaurants, insurance sales, service stations, world wide product sales, product manufacturing, etc. The continued positive influence of area agriculture, area jobs, and the extraordinary area hunting and fishing that the Turtle Lake area offers are among the combined reasons why the city of Turtle Lake (including Turtle Lake's Main Street) continues to thrive and why, with good management and planning for the future, Turtle Lake and the Turtle Lake Mercer School District should be, could be, in existence until the end of the human existence on this earth. Most of the other bordering school districts can not realistically say the same.
Turtle Lake's central location allows residents to drive to work to the nearby Falkirk Mine, Coal Creek Station and Blue Flint Ethanol Plant. Many drive much further to work, just so that they can live within the city limits of Turtle Lake or in the nearby Turtle Lake area country side. These commutes include driving as far away as the agricultural process plants in Velva, various jobs in Bismarck, Minot and Basin Electric's coal gasification plant in Beulah. Many who support the TLM school district are employed by area agriculture as well as businesses and support services located within the city limits of Turtle Lake. Because of the diversity that living in or near Turtle Lake offers and because of the central location of TLM, it is advisable that TLM prepare for the future when TLM will accommodate increased enrollment.
It is no further distance to Underwood, Riverdale, Coleharbor, Falkirk or McClusky than it already is to the extreme northern edges of the existing TLM school district. If consolidation is ever deemed necessary for nearby communities, the strategic location of an "expanded future central school district education facility" within the City of Turtle Lake is the only logical and fair thing to do for the large north, south, east and west area that the TLM school district already serves. TLM already shares a bond with both the Underwood and McClusky/Denhoff/Goodrich school students because these (three different school district's) student athletes are already teammates in several high school sports.
Data to support the fact TLM is centrally located includes the following. Underwood driving miles to the TLM education facility is 15 miles, Coleharbor is an 18 mile cross country drive to TLM, McClusky is a 23 mile drive to TLM, Washburn is a 25 mile drive to TLM, Falkirk is a 25 mile drive to TLM, Denhoff is a 32 mile drive to TLM, Butte of which is 32 miles to the north of TLM is already in the TLM school district, Riverdale is within 33 cross country miles of TLM, Goodrich is within 39 miles of TLM. Other parts of the equation are that Drake and Anamoose may someday opt to combine with Velva. Velva is only 29 miles from Drake. McClusky is 33 miles from Drake and 43 miles to Anamoose and 48 miles to Harvey.
As of 2007, the statistics indicate that TLM currently outperforms most area schools in at least some core area standardized testing subjects including leading the county in K through 12 combined test scoring in mathematics. TLM graduates include doctors, lawyers, engineers, agriculture, pharmacists, teachers, professors, physician's assistants, nurse practitioners, registered nurses, LPNs, dental hygienists, musicians, electricians, mechanics, physical therapists, accountants, air traffic controllers, career military, business managers, entrepreneurs, power and process plant electricians, plant mechanics, plant operators, plant supervisors, building and trades, carpenters, computer programmers, plumbers, elected officials including State Agricultural Commissioner, business owners, game and fish related employment, etc. Read all the print in this and all other Turtle Lake websites to learn of the many other reasons why Turtle Lake is an ideal place to live and raise a family.
It Is The People!
It's the people. More than anything it is the people that make Turtle Lake and rural North Dakota what it is today. The history of how this land was populated by the settlers is colorful and inspiring. This history includes the lineage of most that inhabit this area today. There is absolutely no question that agriculture and related industry was the driving force that inspired the settlers and their children to continue to live in rural North Dakota. The legacy of the North Dakota pioneers includes the work ethic and relative wholesomeness that North Dakotans are still famous for today.
Agriculture is still very much a part of the area economy and very much a part of the local way of life here in Turtle Lake. The way we dress, the respect we treat each other with, the practical vehicles that we drive, the churches that our forefathers built and we sustain, the way we raise our children, all have much to say about who we still are today. When we look out into the area that surrounds Turtle Lake we see much of the natural beauty that the earliest pioneers likely also enjoyed.
Perhaps not everyone that currently lives in the Turtle lake area is employed through agriculture but agriculture and the influences of agriculture are likely much of what all of the modern day inhabitants love about the Turtle Lake and Mercer area. I lived in many different states and even a tropical island before I chose to make my home in Turtle Lake. I am very grateful for my life here including the opportunity to have raised my children in Turtle Lake. As human beings, when we think of what we can offer to the future, we find that it is our time honored values, our services that promote these values, and those that we directly influence including our children and their children, that will have the most positive humanitarian impact on the future.
When I attended high school at TLM during the seventies, I did not have much of an agriculture back ground but I was elected as the Reporter for the Turtle Lake- Mercer FFA and awarded the Star Agribusinessman award for my work as a student mechanic at Haas Chevrolet and International Harvester implement dealership. These honors and awards had as much or more to do with my ability to write as it did with anything else that I had to offer at that time.
During the 1980's the drought and low grain prices took a tremendous toll on North Dakota agriculture. We witnessed a terrible destruction to the area economy. Many area family farms ceased to exist. There were more than 40 empty houses in Turtle Lake and many Main Street businesses were folding as well. Many of us chose to not go silently into the night. Those that could, did hang on to their farms while others did what they could to preserve this little town that serves the Turtle Lake area. Our efforts included forming a very progressive group of volunteers whose efforts included a national advertising campaign entitled The Explore Turtle Lake Project. In a somewhat controversial move, we took pen in hand and let those that had left the area and the rest of the world know what this area had to offer. Our promotional ads were published in the USA Today, LA Times, Chicago Tribune and Boston Herald news papers as well as several hunting and fishing magazines. Many area communities followed our lead.
This web page is a continuation of that original Explore Turtle Lake Project effort to preserve the communities that serve the Turtle Lake Mercer area. This web pages' associated guest book has entries that date back to 1999, while the main content and theme of this page dates back several years prior to that earliest guest book entry.  The Explore Turtle Lake Project has had a hand in writing and originally funding most of the content of four hugely popular Explore Turtle Lake booklets, the original and current main three Turtle Lake web pages and most of the other web pages that still represent the various positive aspects of the Turtle Lake and Mercer area. When a person or organization takes on a project of this magnitude there is hope that the project will become self sustaining and that those who are influenced by the project will be a large part of that continuation of goal and theme.  As a result of the success of us advertising what we have to offer here in Turtle Lake, several businesses, businessmen, business women and community leaders have moved into town.  Turtle Lake's Main Street is again healthy and boasts a significant number of young business owners.  These business and community leaders, are among those who have actively joined this continued effort to let the rest of the world know what we have to offer. An example of a similar project or new direction of effort of which is, in essence, a part of this described "self sustainability", is the current direction of the newly formed Turtle Lake Chamber of Progress and their efforts to build yet another web page to advertise what we have to offer here in Turtle Lake.  All of the efforts by each and every Turtle Lake organization, community leaders, business owners, business managers, etc are again applauded here on this website.  We continue to survive, as did the area communities that followed our lead. We are all proud to continue to do our own part.
Occasionally we hear of or read an inaccurate description of North Dakota and or North Dakota agriculture. An example of this inaccuracy is the subjective viewpoint described in the January 2008 National Geographic article by a seemingly depressed author, "Charles Bowden", of Tucson Arizona, who writes of his dreary thoughts about North Dakota that include a dead cat, a dead deer, a dead badger and Charles Bowden's reoccurring thoughts of suicide. Charles Bowden also wrote in the January 2008 National Geographic article that the reason ND communities have dwindled is because there is not enough rain to sustain crops in ND. Easily accessible government statistics reveal that ND is often the top producer of many crops that feed our nation and the world including in 2007 when North Dakota was the nations top producer of spring wheat, durum, barley, Oats, canola oil, canola non-oil, all types of sunflowers,  flaxseed, pinto beans, navy and all dry edible beans, dry edible peas, lentils and honey.  The fact is that "there is adequate rain in most years" to grow a very wide diversity of crops in ND. Grain prices and subsequent related size of the viable farming and ranching operations are the reason why there are fewer farmers and ranchers. Knowing how we ended up here, in our current situation, is a powerful tool in knowing what future direction we here in ND should pursue. Where in ND, the US and in the world, would you rather raise your children and why? Looking in all directions, in this small town, this state, and this country, reveals evidence that we, of who live in Turtle Lake and Mercer ND, do have much to be thankful for and have made the right choice to continue living here. Congratulations to Charles Bowden for being the first to make it on my list of "extremely subjectively negative reporting regarding ND".  Warning to writers, would be writers and other media: know your facts when writing or reporting about ND or end up on this and other web pages as an example of your specific brand of mistake.   The internet does have a way of leveling the playing field doesn't it?  Web pages are often ranked/listed on search engines by relevance, including how often the web page is visited and how many times the searched subject matter is mentioned on a given web page.  For example: a search for the 2008 National Geographic article by Charles Bowden will likely eventually produce this web site as the most appropriate match for a search that includes the words "2008 National Geographic article by Charles Bowden". 
Charles Bowden showed up on a college campus in Bismarck ND in June of 2008 when he unsuccessfully attempted to defend his subjective views of ND.   During Charles Bowden's  bumbling June 2008 speech he compared the desert climate of Arizona to that of ND while referring to what he described as a sustained drought in ND.  Charles Bowden also described how both Arizona and ND have depleted their natural resources and therefore have arrived at their self inflicted woeful state of being.  Of course Charles Bowden is wrong on both a sustained drought and depleted ND resources.  Charles Bowden's comments about the continued drought came during a week when there was record rainfall in much of ND and during a year when ND will likely again be the top US producer of several agriculture commodities. Those who have studied or are even mildly aware of what is happening in ND do know that ND has a long sustained history of being the top US producer of many agriculture commodities, that ND has one of the largest untapped oil reserves in the US and ND has thousands of years of untapped coal reserves.  Congratulations to Charles Bowden for being the first to make my list of speakers who without regard to easily attainable facts does somehow try to pass himself off as an expert on ND resources during a speech of which includes a "subjectively negative view of ND". 
As a former TLM FFA Reporter, I am proud to report that TLM, the City of Turtle Lake, TLM area agriculture and the TLM FFA are still in existence today. The TLM FFA is representative of our past, our present and the future existence of the Turtle Lake Mercer area. The TLM FFA has a long and distinguished history, complete with state and national honors and awards. I would very much like to link a TLM FFA history web page here or publish TLM FFA accomplishments on a web page if someone would take on the project of accumulating and typesetting this info to a pc format. E-mail me at doncullum@yahoo.com